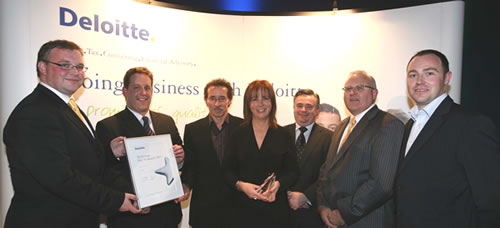 Digiweb today announced their third consecutive podium finish in the Deloitte Technology Fast 50 Awards, a ranking of the 50 fastest growing technology companies in Ireland for 2007.
Rankings are based on average percentage revenue growth over five years. Digiweb grew 1938% percent during this period. This achievement follows Digiweb's recent recognition as ICT and Telecommunications Irish Company of the Year in April 2007.
Digiweb's Managing Director, Colm Piercy, credits an excellent management team and strong workforce with the company's 1938% revenue growth over the past five years.
He said, "This has been an exciting and very successful year for Digiweb and we are all delighted to be ranked in the top 3 fastest growing companies in Ireland for the third year running. Digiweb's focus on customer satisfaction, good value services as well as our continual innovation and creativity all contribute to ensuring that Digiweb is one of Irelands leading Telecommunications & Internet services providers. This award is recognition of the continual high standard of work from Digiweb Staff.'
Further details on the Technology Fast 50 and the full list of rankings are available from www.deloitte.com/ie