SIRO, the open-access wholesale broadband provider delivering Ireland's first 100% fibre-optic broadband network to 50 towns nationwide, has announced that Digiweb has become its second retail partner.
Digiweb will now launch a number of 100% fibre optic broadband packages for both residential and business customers, with speeds ranging from 500 Megabits per second (Mbps) to one Gigabit per second (Gbps), with pricing from as little as €39.95 per month.  Digiweb's "SIRO powered Broadband" services will go live in Dundalk, Letterkenny and Drogheda during 2016, before Digiweb increases its availability across the country as SIRO's rollout continues.
SIRO's differentiator is that it is a 100% fibre-optic internet connection, making it better than any other broadband infrastructure in Ireland, with no copper connection at any point in the network.  SIRO's Gigabit connectivity, is three times as powerful as the market leading service in Dublin and 10 times as powerful as the market leading service in rural Ireland.
The 100% fibre-optic broadband network is already helping to reverse the digital divide in rural areas, with the recent launch of the Ludgate Hub in Skibbereen illustrating the impact of Gigabit connectivity.  The rollout of SIRO will help to boost Ireland's rural economy facilitating reliable services like remote working and will foster and maintain a strong local startup community. Skibbereen, with its recently launched Ludgate Hub, is one such town that has seen the impact of strong connectivity, which will bring the same level of connectivity as leading international business hubs like Hong Kong and Tokyo.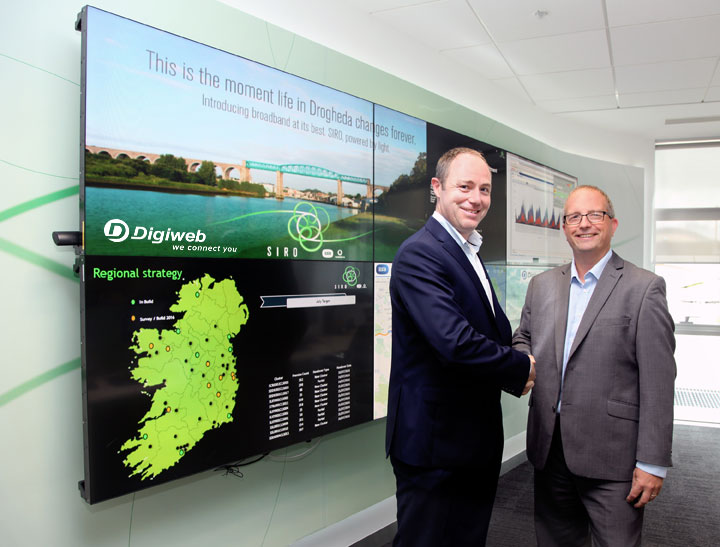 Commenting about the partnership with Digiweb, Sean Atkinson, Chief Executive of SIRO, said: "Our partnership with Digiweb illustrates how SIRO is driving competition in Ireland's broadband marketplace. Our network is better than the alternatives as it is powered entirely by light, future-proofing the country's broadband needs for decades.  Our ambition is to become the new national telecoms infrastructure. We want to migrate Ireland from legacy copper based networks to 100% fibre-optic networks, this will ensure that people across the country can avail of next generation services and drive the economy forward."
Declan Campbell, Managing Director of Digiweb, added: "This is a different kind of internet and we are delighted to be offering our customers the choice. It will be great to be able to offer our customers SIRO powered broadband packages of up to 1Gbps, enabling us to deliver one of the most powerful broadband services available in Ireland. On a number of levels the introduction of this service will differentiate us from most of the competition. With the quality of service and support Digiweb offer our customer base, this product will set us apart from the market. As one of the first broadband retailers to offer services on the SIRO network, this is the latest milestone as part of our strategy of delivering the best broadband experience in the country."
Customers interested in availing of Digiweb's SIRO powered Broadband should FREEPHONE 1800 285828 or visit digiweb.ie/siro-broadband
ENDS
About SIRO:
Launched in May 2015, SIRO is a joint venture of ESB and Vodafone which is investing €450 million in building Ireland's first 100% fibre-to-the-building broadband network, offering a 1 GB (1000 Mb) internet connection to 500,000 premises in fifty regional towns. SIRO will revolutionise Ireland's broadband market with technology which is the first of its kind in Ireland. Using ESB's existing infrastructure, SIRO's unique network will be available to all broadband service providers in the country and will address the digital divide between towns and cities.
About Digiweb:
Digiweb Limited, part of the Digiweb Group, provides broadband and telephone solutions for residential and small business customers across Ireland and Belgium. Digiweb has an extensive portfolio of leading voice, fibre broadband and satellite broadband services with its wholly owned fibre infrastructure. Digiweb owns and operates Ireland's largest alternative last-mile access network.